Basic approaches to CSR
The Volvo Group's mission is "driving prosperity through transport solutions." To facilitate the pursuit of its CSR activities, the Group revised the "CSR and sustainability approach," which serve as the framework of Volvo's CSR activities in 2016. In the updated framework designed for "driving prosperity" is underpinned by three pillars: our value chain activities, towards sustainable transport, and our role in society. The Volvo Group aims to help develop a sustainable society by pursuing these activities.   Furthermore, the Volvo Group gives priority to joining international initiatives and achieving international goals, including the UN Global Compact and Sustainable Development Goals (SDGs) as well as keeping dialogues going with stakeholders.   The SDGs were adopted by the UN General Assembly in 2015. Of the seventeen goals that must be achieved, the Volvo Group is emphasizing the following four "3. Good health and well-being," "9. Industry, innovation and infrastructure," "11. Sustainable cities and communities," and "13. Climate action."   UD Trucks builds its operation upon these approaches taken by the Volvo Group while maintaining its business strategy and brand personality. We make good use of our expertise, talent, facilities, and other managerial resources to fulfill our commitment to creating value for our stakeholders and UD Trucks.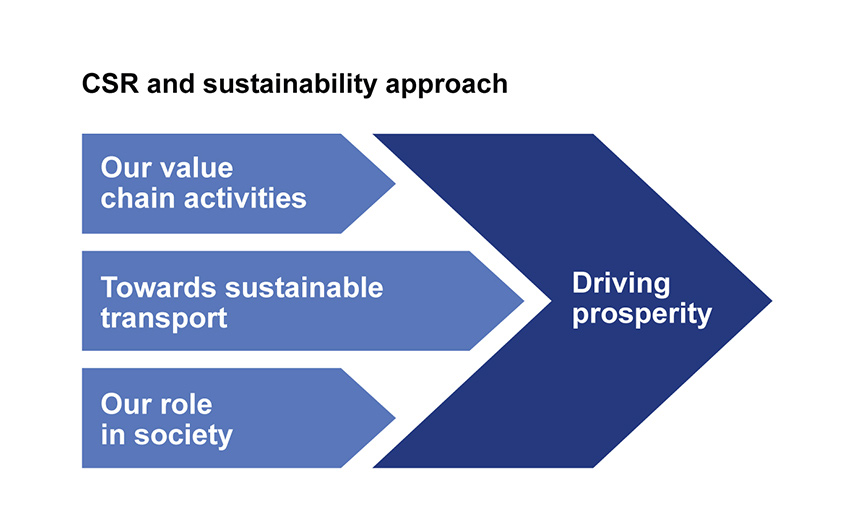 CSR management system
There are dedicated CSR/environmental management team under the Public Affairs Department that is responsible for negotiations with national/regional governments and industrial authorities. They also engage in collecting information about the CSR-related activities that are conducted by each division, as well as planning and managing various company-wide initiatives.   In order to ensure the company-wide alignment, each division appoints its dedicated CSR staff, who meet regularly to share information cross-functionally and plan and discuss specific activities. They also report the progress in these activities to the top management board, and receive their instructions, decision-making and approval.