Construction challenges
Today's construction industry has its own set of unique challenges. Global urbanization, larger infrastructure projects and tough competition have increased pressure to deliver. At the same time, there is a wider range of opportunities than ever for construction companies.
Getting the job done is only part of it. It's achieving greater productivity, maximizing uptime and increasing fuel efficiency that will put you one step ahead of the competition.
Why UD Trucks for construction ?
UD trucks offer ultimate dependability for construction assignments – whether you're a driver, an owner, or both. New Quester with ESCOT is smart, robust and optimized for higher payload and even greater fuel efficiency. The Croner is flexible, time-saving and profitable.
Both trucks deliver value-added durability and reliability, more fuel in the tank after every assignment, and major payload possibilities to move your business forward. And with our extensive service offer, we've got you covered. Go the Extra mile with UD Trucks.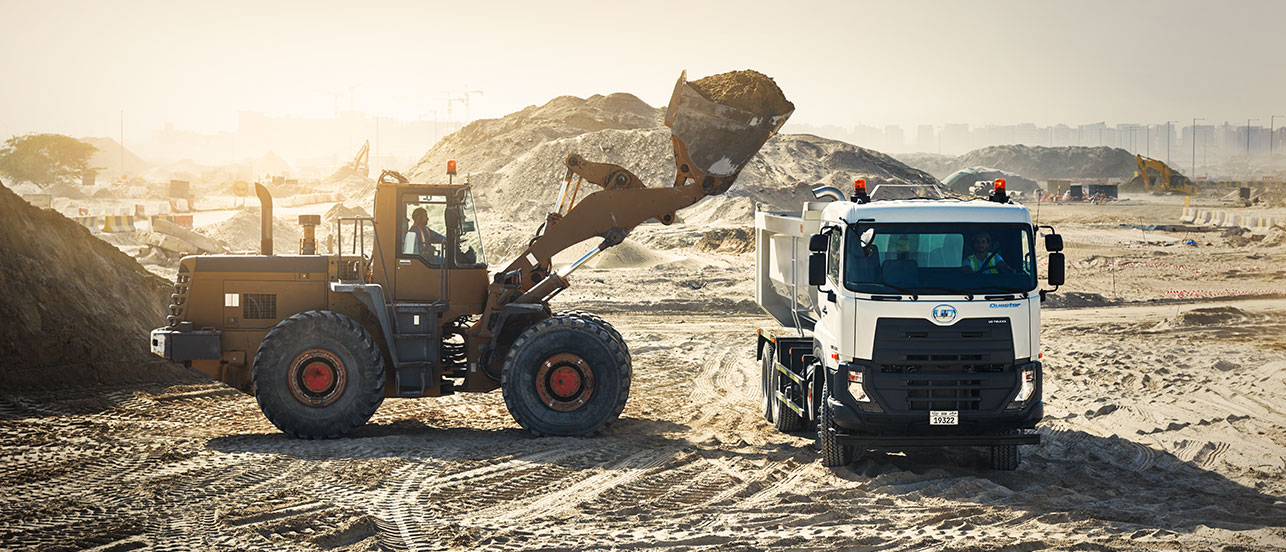 The tough two
Solid, smart and future-designed. Meet UD Trucks' dependable duo for construction.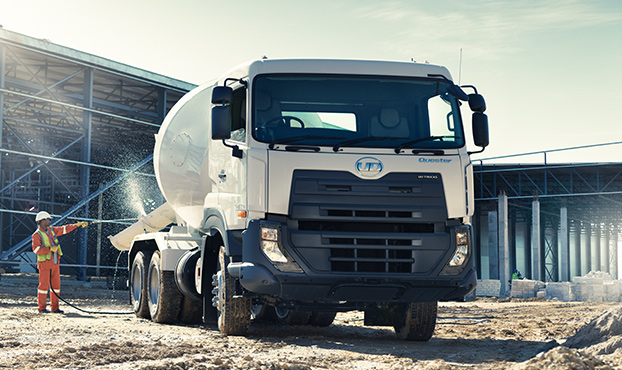 Quester
New Quester's GH11E engine and ESCOT means greater fuel efficiency and easier driving is added to the truck's already famed endurance. A versatile workhorse that provides maneuverability and ground clearance to handle the toughest terrain.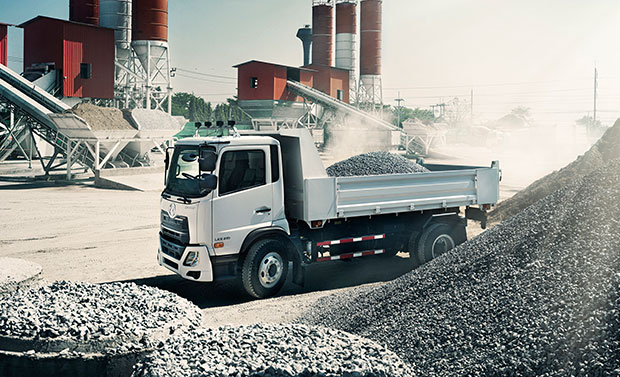 Croner
The Croner is a flexible, efficient compliment to New Quester. Suited to more specific construction tasks, it is available in three GVW ranges and saves both time and fuel.
Bodybuilding
New Quester is designed to make super-structure installation easy. Comprehensive bodybuilder instructions and power take offs for specific applications make it ideal to be adapted for all assignments and road conditions.

Quester Mixer/Concrete

Quester Concrete pump

Croner Mixer/Concrete

Quester Dump Truck/Tipper
Quester Tanker

Croner Dump Truck/Tipper
Break new ground
Power. Durability. Operational efficiency. Make the most of New Quester and Croner. In heavy construction, 6×4 and 8×4 rigid configurations provide flexibility to match the truck to the job.
Quester and Croner models suitable for Construction
A durable partnership
Construction projects demand the best support network possible. UD Extra Mile Support keeps your trucks working for you. Every hour, day or night.
UD Genuine service
Service planning for peak performance
You need your vehicles on the road. That's why our detailed, free-of-charge service planning helps to reduce workshop visits, optimize service intervals for maximum uptime, and lessen any maintenance needed. Together we can keep our trucks running at peak performance.
UD Driver Training
We want to help and encourage new drivers to make a positive contribution to your operations. Our Driver Training program is designed to help build driver capability. Courses cover not only handover and operation, but also the best methods to save fuel and drive safely. Dedicated modules are available for long haul drivers.
UD Genuine Parts
It's reassuring to know that UD Trucks' genuine parts keep vehicles high quality throughout a vehicle's life-cycle. Because every part of your truck matters. Designed and tested to provide the highest quality and durability, and with a one-year warranty, access to UD Genuine Parts increases uptime and lowers costs per kilometre.
Our advice for services
Tyres account for more than 7 per cent of your total cost of ownership. Depending on your operations and road conditions, frequent replacement may be needed. We recommend that a wheel alignment is carried out regularly as an included option in UD Trust.
Construction sites are often far from your office location. We recommend using our mobile UD Telematics app to keep an eye on your fleet while on the move.
* Our service offer can differ depending on market. Please contact your local dealer for more information on all services available to you.
Expert Story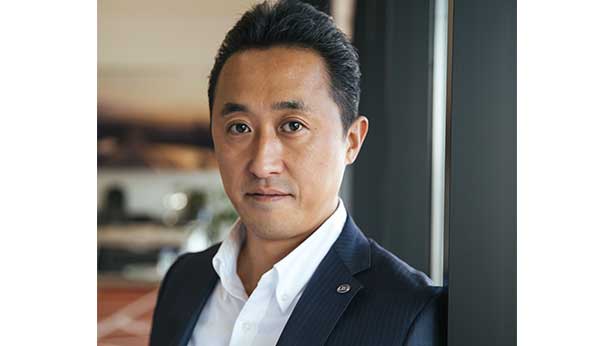 "ESCOT contributes to easy driving on tough terrain and greatly improves fuel efficiency."
Toshi Odawara, Vice President, UD Trucks Heavy Duty Product Line, talks about the unique qualities New Quester brings to the construction segment.
What do you think are the most important new features on New Quester for the construction industry?
Quester already has strong assets for the construction segment. It can easily cope with tough assignments, with its robust chassis and options such as the high ground clearance, steel bumper, hub reduction and tough drivelines capable of higher payloads. Additionally, we have added our in-house automated manual gearbox ESCOT, which contributes to easy driving in various road conditions and greatly improves fuel efficiency.
What are the main ESCOT benefits for construction?
ESCOT automatically starts with Eco mode, which gives the right shifting performance capturing the road and load condition for better fuel efficiency. For tough construction assignments, we need to have stable gear shifting in rough road conditions, otherwise will be difficult to operate in such areas.
For this we have added the PWR+ mode from Eco mode. This will provide smoother and stable gear shifting operations at slow speed in rough road conditions, such as on construction sites.
Allison is ideal for stop-start operations. Can you expand a bit on its qualities for construction in particular?
Allison is ideal for short haul trips where you have many stop-start operations. Construction assignments are often in cities and regional areas, and delivering ready mix concrete and other construction materials in these cities is challenging. Allison is suitable for this type of operation, as clutch maintenance costs are reduced and any driver can achieve good fuel efficiency.
How do lowered tare weight and improved driver comfort impact positively on construction?
In countries where have strict legal load limits, you must sacrifice the load if chassis weight is heavy. Lowered tare will increase the payload and productivity of operations. Also, we have introduced new air suspended seats with lumber support to improve driver comfort. This will lessen the strain on drivers when negotiating rough roads.
Firas Sader Al Deen, Transportation Manager.

"We hope that this partnership keeps growing with our company and projects."