Sustainable truck transport requires care for environment, safety and drivers
Of all domestically transported goods, freight transported by truck makes up about 90 percent when measured in tons, and about 50 percent in ton-kilometers. The logistics industry is committed to meeting increasingly tough environmental regulations, enhance safety measures, and improve truck drivers' work environments in order to fulfill its mission to provide infrastructure critical to Japanese society and its economy.
Quon is a new solution to the logistics industry's challenges.
The concept is "Innovation that puts people first."
In April 2017, UD Trucks launched the all-new heavy-duty Quon truck. We applied UD Trucks' own innovations to the development of the all-new Quon not just to meet the latest emission standards, but to offer a solution to diverse challenges that the logistics industry faces.   By "UD Trucks' own innovations," we mean more than a technological novelty. As a manufacturer of production goods that forms a part of logistics, we strive to propose products and services that create new universal value for customers, society, and the environment. UD Trucks' history is synonymous with the history of the company's efforts toward the evolution of safe, efficient, green, and sustainable transport solutions. It is represented by the inter-vehicle distance warning system (Traffic Eye) we adopted before most competitors across the world; the electronically controlled transmission "ESCOT" that is highly operable and fuel-efficient; and the flagship heavy-duty Quon truck equipped with the world's first urea SCR system.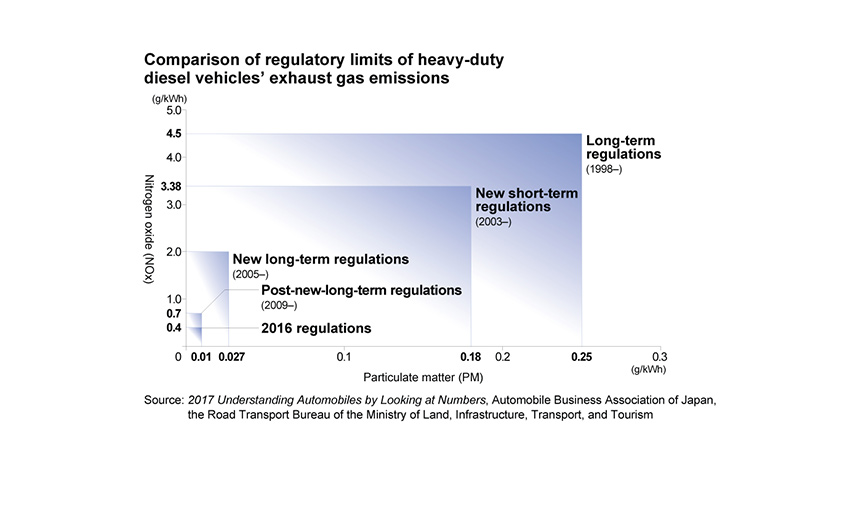 Truck with advanced solutions across five essential feature areas
A transport solution must offer five essential features: drivability, fuel efficiency and environmental performance, safety, productivity, and uptime. The all-new Quon has significantly advanced versions of these elements.   The cockpit is designed to offer comfortable space to help the driver focus on driving, and the electronically controlled automatic transmission provides superior operability. The fuel efficiency accompanied by environmental performance is highest of all vehicles in the same class, while the vehicle maintains power. The advanced safety features not just protect the driver, passenger, and freight, but ensure safety in the vehicle's surroundings. Improved ease of loading and bodybuilding efficiency coupled with lighter weight enhance productivity. And our wide-ranging after-sales service helps boost uptime.
1. Easier to see, easier to use "Drivability"
The cockpit has been completely redesigned for driver comfort, with operability and visibility ergonomically re-engineered from the ground up. The ESCOT-VI electronically controlled automatic transmission adopts a straight shift pattern, further advancing the Quon's operability; the disc brakes provide an outstanding braking performance. Through these features, the all-new Quon provides a comfortable driving environment allowing drivers to concentrate on the road ahead.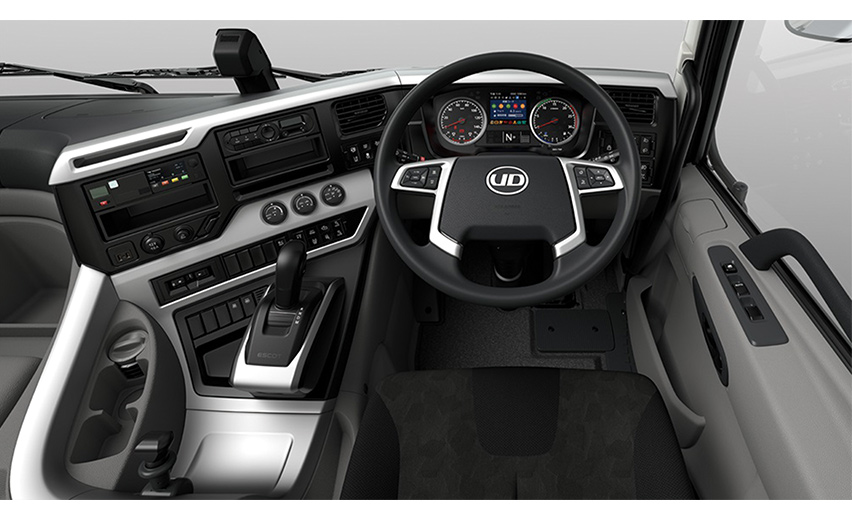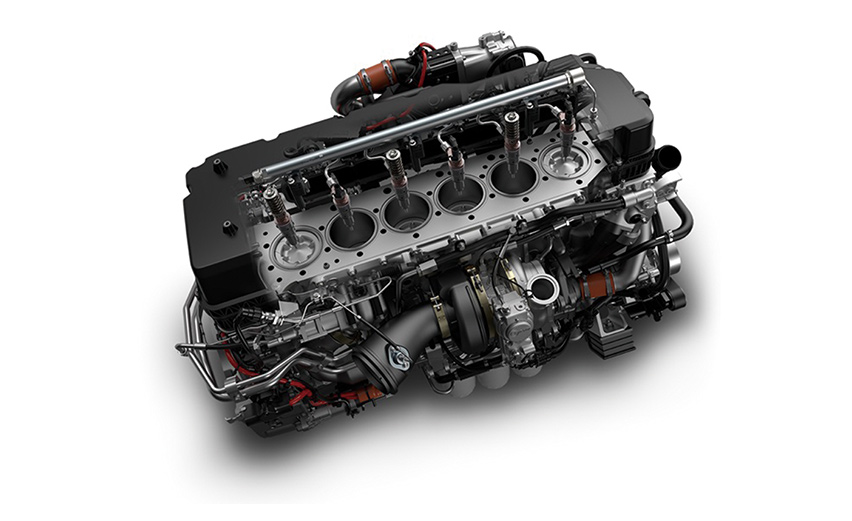 2. Cleaner and more powerful "Fuel efficiency and environment care"
The fuel-efficient, powerful, and clean 11-liter GH11 engine complies with Japanese 2016 exhaust gas regulations, and all models achieve +5% over the 2015 fuel economy standards for heavy vehicles in Japan. The engine generates powerful torque from low revs up through a wide RPM range, making the Quon a pleasure to drive. To further support fuel-efficient driving, the Quon also features anticipatory solutions that use GPS to look ahead as well as a system that displays driving advice to help drivers achieve further improvement in fuel economy.
3. Safer and more reliable "Safety"
The all-new Quon, among others, features the UD Trucks Traffic Eye Brake system (collision mitigation braking), which uses high-precision radar and a abin-mounted camera for dual-monitoring of the road ahead, as well as advanced driver assistance systems including Driver Alert Support. Our new flagship is also fitted with disc brakes featuring excellent heat-release properties for superb and industry benchmark anti-fade performance.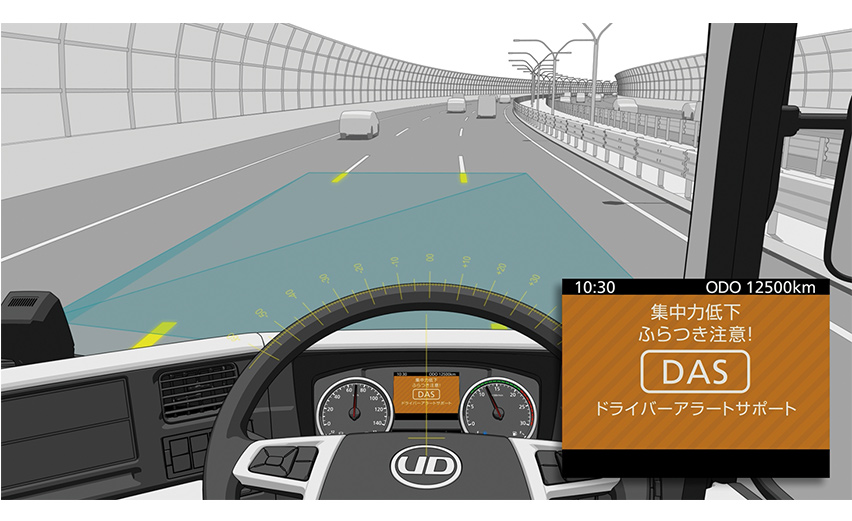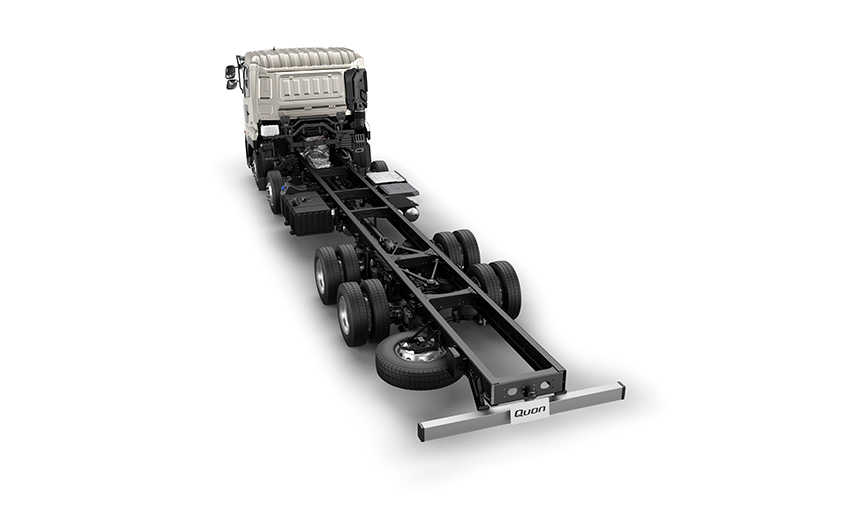 4. Improved productivity, greater functionality "Productivity"
Every component has been refined to realize an overall lighter vehicle while achieving gains in load-carrying capacity of up to 200 kg depending on the model. Improved ease of loading, bodybuilding efficiency, and smoothness at creeping speed for approaching loading docks also reflect our uncompromising commitment to boosting productivity for our customers. We have also expanded the dry wing-body variations available in the Perfect  Quon range and added a refrigeration wing-body.
5. Extended peace of mind "Uptime"
The all-new Quon represents a further improvement in vehicle reliability and durability. It is easier to maintain, with a reduced number of parts requiring regular replacement and longer service intervals on genuine parts. Moreover, comprehensive after-sales service that includes maintenance, a service agreement, and the latest telematics services keeps customers' vehicles in the best possible condition to boost uptime to the maximum.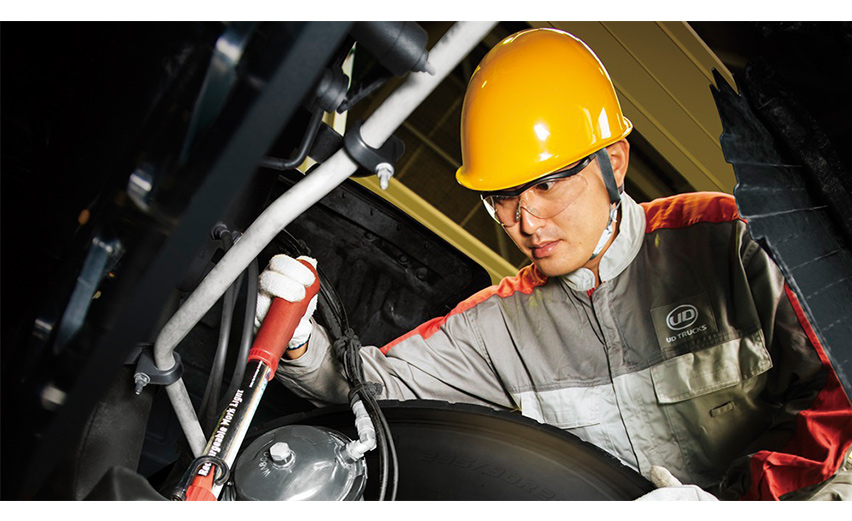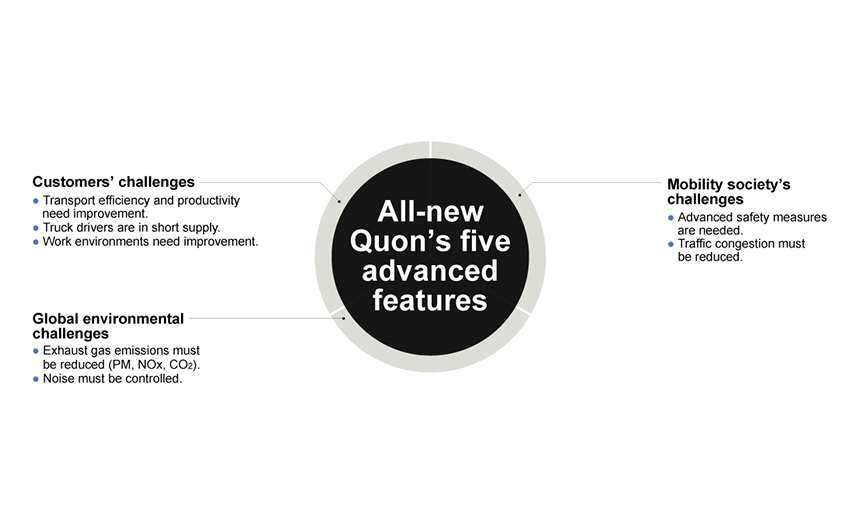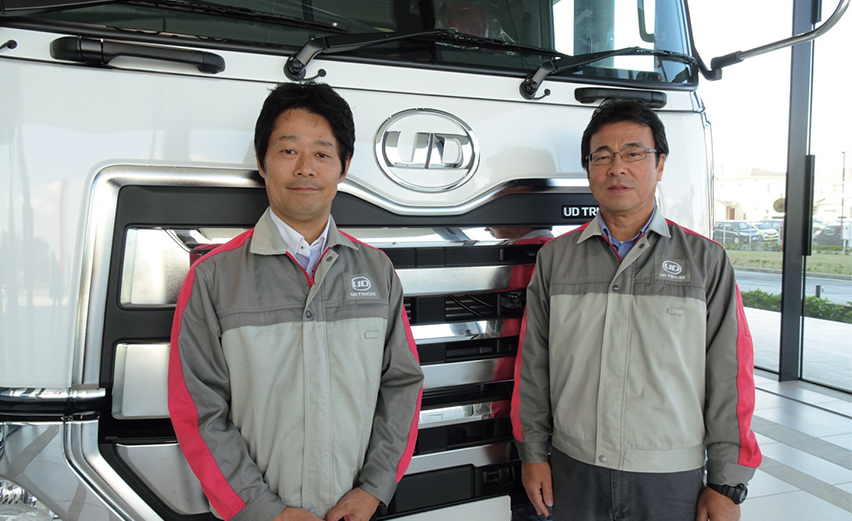 Voice
Product Planner:
Aki Hoizumi, Product offering, UD Trucks Brand, Communication and Product (left)
My purpose is to help customers achieve business success.
Since new exhaust gas regulations were scheduled to be enforced in 2017, we first had to identify how to meet the requirements of the regulations as we planned the all-new Quon. We also had in-depth discussions about what the logistics industry needs, and what unique contributions UD Trucks can make by tapping into the strengths of the Volvo Group that boasts international perspectives and insights. Then we reached the concept "Innovation that puts people first."
The concept represents our decision to produce a vehicle that entices drivers to hop into the cockpit and makes them happy to drive it, in addition to offering environmental performance, improved productivity, and efficiency. It led to the creation of key features such as the further-evolved ESCOT-VI (automatic transmission), the design of the driver's seat, and advanced safety features.
We also plan to advance from Japan to international markets. I hope that the all-new Quon will help as many customers as possible to achieve business success around the globe.
Product Developer:
Akira Tateoka, Features, Verification & Validation, UD Trucks Technology (right)
Look to the all-new Quon for quality.
We developed the all-new Quon with a greater commitment to quality than ever. We used about 100 test vehicles for driving tests that covered several million kilometers under harsh conditions to make sure that the Quon offers sufficient safety, drivability, and durability. Some of these tests were conducted in cold climates to see how the vehicle runs on winter roads. We traveled all the way to Sweden in addition to Hokkaido that is our regular test location. We tested start ability, exhaust gas after-treatment, starting and braking performance on a slippery road at very low temperatures; simulated the impact of snow and frost; and assessed the new features and newly-developed disc brakes. Based on the results of these, we worked on the development to enable Quon to retain its highest level of performance on compacted snow and frozen road surfaces.
We also conducted crash tests to assess protective performance for the driver and passenger, durability tests on a test bench to measure the vibration durability of the cabin and chassis, and other various tests. Then the R&D team took measures to address the problems found through the testing and conducted another round of tests to make sure the problems were solved. We repeated this cycle over and over before completing the final product. We will continue listening carefully to what our customers have to say in order to keep developing improved products.